News

Press Release

Oct 27,2009
Ubiquitous Corporation
Ubiquitous Corporation Releases the New Product, DeviceSQL DataSync
Data Connection Range of the DeviceSQL Embedded Database to be Enlarged
Release 4.2, the Latest Version of DeviceSQL Simultaneously Made Available
Ubiquitous Corporation [JASDAQ:3858], hereby announces that it has released the new product, DeviceSQL DataSync, and started to offer 'Ubiquitous DeviceSQL Release 4.2′ (hereinafter referred to as 'DeviceSQL4.2′), the latest version of its embedded database product. Both products are available from today, October 27.
The new DeviceSQL DataSync product supports data synchronization functions between an enterprise-oriented RDBMS (Relational DataBase Management System) and DeviceSQL and facilitates the improvement of the data connection efficiency between enterprise-oriented applications and embedded devices.
There is a wide range of applications for DeviceSQL Data Sync, such as the connection of data that includes sales records, inventories and small change between a business application and a remote automatic vending machine that uses DeviceSQL via an in-house database; the connection of data on orders received/placed or inventories between an in-house database and a job-oriented terminal; and the utilization of customers' fax numbers managed with an in-house database on a compound machine that uses DeviceSQL.
Figure: Example of an application for DeviceSQL DataSync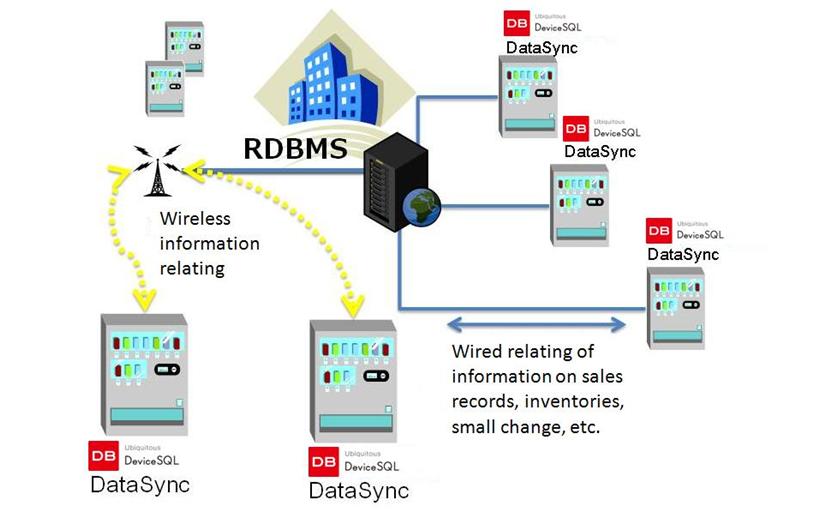 UbiquitousDeviceSQL is a product specialized for embedded devices and provides both a database function and a data processing function. In addition to the world's smallest class database engine (minimum memory footprint: 24 KB), UbiquitousDeviceSQL provides a framework to implement a data management function optimized for embedded systems.
This release of the updated DeviceSQL4.2 follows the release of DeviceSQL4.1 in May 2009.
The details of DeviceSQL DataSync and DeviceSQL4.2 are as follows:
■ DeviceSQL DataSync
DeviceSQL DataSync, offered as an optional product available with DeviceSQL4.2, supports data synchronization functions between an enterprise-oriented RDBMS and DeviceSQL, via a TCP/IP network. DeviceSQL DataSync makes it easier, for example, to utilize in-house data with embedded devices and reflect data stored in embedded devices in in-house data, thereby making it possible to use DeviceSQL for a wider range of applications. Among enterprise-oriented RDBMSs, Ubiquitous plans to support Oracle databases first, and then other RDBMSs in sequence.
■ Enhancements of DeviceSQL4.2
+ Improved basic functions that are important as database functions, such as search and sorting
+ Reduction in DeviceSQL Compiler compile time
+ Supports the LIMIT/OFFSET phrase in the SELECT sentence, making it possible to retrieve only some of the lines generated by executing an inquiry.
■ Time and method of product offering
+ Both products are available from today (October 27).
+ DeviceSQL4.2 is available free of charge to customers using any existing version and who have a maintenance contract with Ubiquitous.
+ DeviceSQL DataSync is on sale separately from DeviceSQL4.2 as an optional product.
For inquiries about the products or the purchase of those products, please contact Ubiquitous or any of its sales representatives.
In connection with the above, Ubiquitous hereby announces that it will hold a demonstration of DeviceSQL4.2 at Embedded Technology 2009, an exhibition held from November 18, 2009 (Wednesday) in PACIFICO Yokohama. The demonstration will take place at the Ubiquitous booth (Booth No. D-61).
For more information about Embedded Technology 2009, please refer to the following URL:
http://www.jasa.or.jp/et/index.html
Comment from Mr. Matt Kawauchi, President of Ubiquitous Corporation
"So far, data management with DeviceSQL has been supported only by stand-alone embedded devices or several embedded devices, including DeviceSQL, connected via a network. The products released this time, DeviceSQL4.2 and DeviceSQL DataSync, support data synchronization with enterprise-oriented RDBMSs such as Oracle databases, and are available for many more applications. We wish to expand the lineup of RDBMSs to support as well as to further enhance DeviceSQL and to help our customers with product development."
About Ubiquitous Corporation (JASDAQ: 3858)
Ubiquitous was established with the aim of realizing the dream of ubiquitous networks for connecting the various devices that we constantly use today so seamlessly that we needn't even think about it making connections. Compact, efficient and high-speed software is indispensable to the creation of such ubiquitous networks, and Ubiquitous is committed to contributing to this endeavor through developing the world's most compact, efficient and high-speed network software.
Contacts
■ Ubiquitous Corporation
SHINJUKU FIRST WEST 16F, 1-23-7 Nishi-Shinjuku, Shinjuku-ku, Tokyo 160-0023, Japan
TEL: 03-5908-3451 FAX: 03-5908-3452
Website: https://www.ubiquitous-ai.com/en/contact/others/
Staff: Haruhiko Handa, Michiko Toyota

■ Ubiquitous Corporation PR Desk (within Actio, Inc.)
TEL: 03-5771-6426 E-mail: ubiquitous-pr@actioinc.jp
Staff: Akino Nakamura, Norio Ohkaba