News

Press Release

Nov 10,2009
Ubiquitous Corporation
Ubiquitous Announces New Product 'Ubiquitous QuickBoot'
New Technology for Dramatically Reducing Embedded System Boot Time
Record-Breaking 1-Second Booting of Android and Restoration of Application Execution State
Ubiquitous Corporation today announced 'Ubiquitous QuickBoot', a new product for dramatically reducing the time required to boot embedded systems. The company plans to launch sales of Ubiquitous QuickBoot next year.
QuickBoot uses new proprietary technology developed by Ubiquitous that enables almost instant system booting in far shorter time than other methods by preferentially restoring memory sections required for booting from the nonvolatile storage to the RAM. In trial implementation using Android1, QuickBoot restored the system to application execution state in less than 1 seconds2 from turning power on, a world record3 for booting Android.
This solution will enable device manufacturers to develop digital consumer appliances, mobile devices and Netbooks capable of instant booting from a state that consumes almost no standby power without any adverse impact on usability.
In recent years, Linux and Android have become increasingly popular as operating systems for digital consumer appliances and mobile devices equipped with increasingly complex features, but cold booting from a power-off state can take up to about one minute, and manufacturers recognize that boot time needs to be improved. As one solution for reducing boot time, manufacturers have begun to equip some devices with a hibernation mode, which involves the use of flash memory or some other nonvolatile storage to store the system state that runs on the RAM and restore it to the RAM when power is turned on. The problem with this kind of hibernation method, though, is that the more memory that is used by system and applications, the longer it takes for all of these items to be restored from the storage to the RAM, and booting is slowed as a result.
Ubiquitous's new QuickBoot technology, however, preferentially restores the memory sections required for booting to the RAM, making the booting process independent of memory required by applications and thus enabling almost instant booting in the 1-second range. Remaining memory sections are steadily restored after booting, and this process has almost no impact on performance.
When turned off by the user, devices running Linux or Android normally enter a standby mode in which current still runs to the CPU and DRAM so as to shorten reboot time, but the amount of power consumed in standby is not negligible. By enabling booting in the 1-second range, QuickBoot helps to reduce the standby mode power consumption of consumer appliances and boost the battery life of mobile devices. It will also make a considerable contribution to the creation of more eco-friendly products.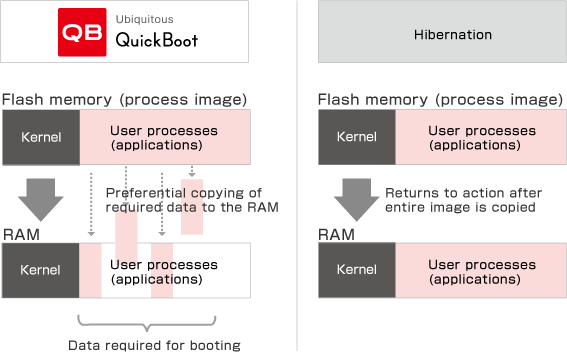 Fig 1: The difference between hibernation and QuickBoot mechanisms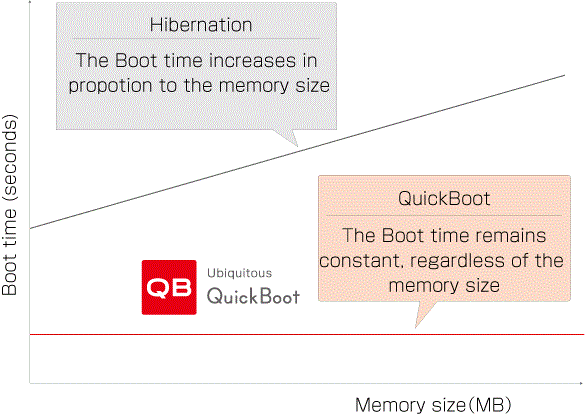 Fig.2: Relationship between system state memory size and boot time
Ubiquitous will be demonstrating QuickBoot-based instant 1-second range booting to application execution state in Android-powered devices at its booth (D-61) at the Embedded Technology 2009 (ET2009) show opening at Pacifico Yokohama on Wednesday, November 18, 2009.
See the following website for Embedded Technology 2009 details: http://www.jasa.or.jp/et/index.html
Ubiquitous QuickBoot Web Page
https://www.ubiquitous-ai.com/en/products/os/quickboot/
You can find the video of 1second booting of Android
Notes:
1. A mobile device platform offered by the Open Handset Alliance established by Google and others. Android is attracting increasing interest for use in a wide range of digital network devices in addition to mobile phones.
2. Measured by stopwatch using the following environment:
Android / Armadillo-500FX (Atmark Techno, Inc., with no hardware modification)
RAM size: 105 – 110 MB
RAM image size: 128 MB (uncompressed, no XIP)
Boot time from power-on to the following processes or operation-ready state:
- GlobalTime Approx.      1.3 second boot time
- GLSurfaceView Approx.    1.4 second boot time
- AnimateDrawables Approx. 1.4 second boot time
3. As of November 2009 according to Ubiquitous Corporation research
* The company and product names appearing in this press release are the trademarks or registered trademarks of the relevant companies.
About Ubiquitous DeviceSQL
Ubiquitous was established with the aim of realizing the dream of ubiquitous networks for connecting the various devices that we constantly use today so seamlessly that we needn't even think about it making connections. Compact, efficient and high-speed software is indispensable to the creation of such ubiquitous networks, and Ubiquitous is committed to contributing to this endeavor through developing the world's most compact, efficient and high-speed network software.
Contacts
■ Ubiquitous Corporation
SHINJUKU FIRST WEST 16F, 1-23-7 Nishi-Shinjuku, Shinjuku-ku, Tokyo 160-0023, Japan
TEL: 03-5908-3451 FAX: 03-5908-3452
Website: https://www.ubiquitous-ai.com/en/contact/others/
Staff: Haruhiko Handa, Michiko Toyota

■ Ubiquitous Corporation PR Desk (within Actio, Inc.)
TEL: 03-5771-6426 E-mail: ubiquitous-pr@actioinc.jp
Staff: Akino Nakamura, Norio Ohkaba