News

Press Release

May 08,2012
Ubiquitous Corporation
Ubiquitous Supports New DTCP+ Standard Enabling Secure Content
Distribution Over the Internet
Extending the scope of content protection to the Internet
TOKYO, May 8, 2012 – Ubiquitous Corporation, a leading embedded software company [JASDAQ NEO: 3858], announces that it has added software libraries for DTCP-IP1 Ver. 1.4 (hereafter DTCP+2) to Ubiquitous DTCP-IP, it's DTCP-IP content protection solution enabling copyrighted content to be viewed on digital TVs, Blu-ray recorders, PCs and other digital consumer appliances connected to home networks. Ubiquitous has started offering this new solution – an industry first3 – to device makers.
DTCP-IP is a technology for transmitting copyrighted contents that complies with DLNA (Digital Living Network Alliance4) standards. DTCP+ is a new, enhanced version of the standard announced in January this year. The streaming of copyrighted digital content between TVs, PCs and other digital consumer appliances and transfer of content to network hard drives has been limited under the previous standard to home LANs and other home area networks. DTCP+ support will enable device manufacturers to extend such functionality through the Internet to mobile devices such as smartphones and tablets, and to in-car entertainment systems and other connected devices.
DLNA, the standardization organization promoting the adoption of DNLA standards, has announced that the number of DNLA-compliant devices distributed worldwide reached 281 million in 2009, and is expected to top 1.1 billion in 2014. Ubiquitous predicts that the emergence of DTCP+ solutions will drive a major expansion of DTCP technology, as the new standard enables delivery of high quality entertainment experiences across multiple screens and beyond the bounds of home networks.
Ubiquitous DTCP-IP is a software development kit (SDK) that can be used to develop DTCP-IP-compliant home network devices. Using this SDK in the development of a DMP (Digital Media Player) or DMS (Digital Media Server) enables compliance with DLNA standards and enables the distribution and reproduction of copyrighted content. Ubiquitous DTCP-IP has already been embedded in many devices, including digital TVs and Blu-ray recorders made by prominent Japanese audiovisual equipment manufacturers, as well as reference machines and other equipment for broadcasters. Ubiquitous has also recently started to extend the solution's adoption to in-car entertainment and other leading edge devices. This industry-first? DTCP+-compatible solution by Ubiquitous will enable device manufacturers to bring out new network-enabled digital consumer appliances in less time.
Cable TV broadcasters and other businesses in North America and Europe are recently showing increasing interest in DTCP-IP as a technology for protecting premium content.? Anticipating that the growing importance of integration with mobile devices will spur the adoption of DTCP-IP by makers of Set Top Boxes and other audiovisual equipment worldwide from the second half of this fiscal year, Ubiquitous will be aiming to win new business for its DTCP+ and other offerings in this field.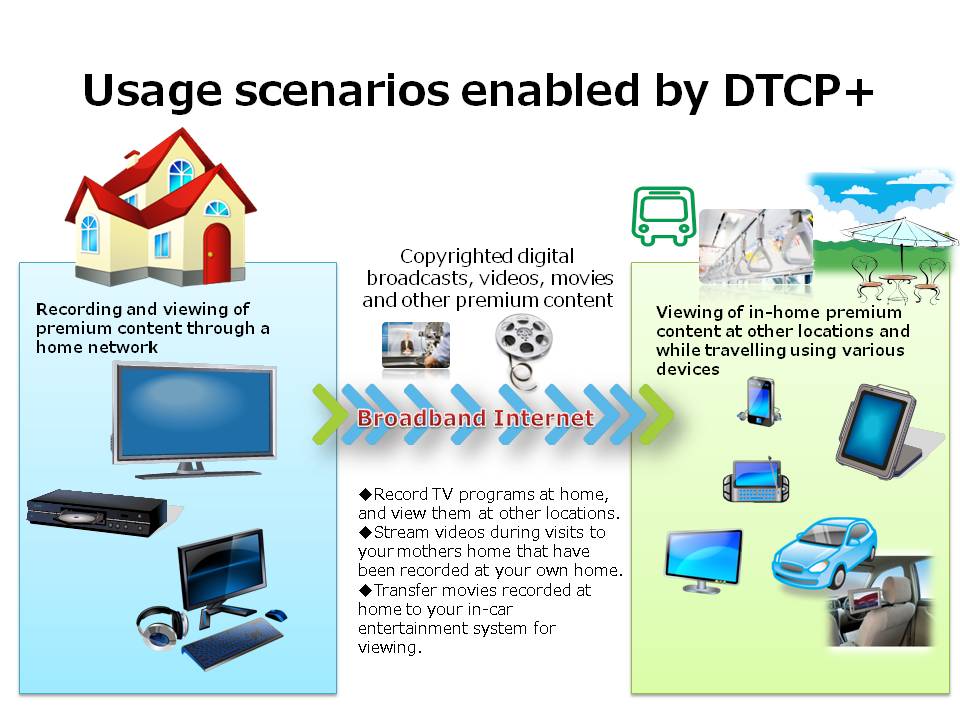 Comment from Kanji Mihara, president of Ubiquitous Corporation
"I am proud to announce our support for the new DTCP+ standard as a world first. The explosive growth of broadband networks, smartphones and networked devices has driven a diversification in recent years in the way we view TV programming, movies and other premium content. Enabling diversification while protecting copyright has become an issue that needs to be addressed.? With the creation of the DTCP+ standard, the technology is now in place and we hope to play our part as a software platform vendor in accelerating its adoption to deliver new viewing experiences and create new media business."
1 DTCP-IP (Digital Transmission Content Protection over Internet Protocol)
A technical standard specified by the Digital Transmission Licensing Administrator (DTLA) for transmitting copyrighted digital content in IP networks, and particularly home networks. DTCP-IP is regarded as essential to DLNA content protection standards, and is also required for sharing digital contents over a home network.
2 DTCP+
Use of DTCP-IP content protection functionality between DLNA-compliant devices enabled the viewing of recorded TV programs and other copyrighted content over a home network, but DTCP+ enables the secure distribution of such content also to devices outside the home. Moreover, the addition of Content Management Information (CMI) capability enables more flexible management of content by applications.
3 As of May 2012, according to Ubiquitous research
4 DLNA (Digital Living Network Alliance)
An organization that formulates guidelines for the interconnection over a home network of digital audiovisual devices and PCs made by different vendors for the easy sharing of video, music, photos and other digital content
■ About Ubiquitous DTCP-IP
Ubiquitous DTCP-IP is an OS-independent software development kit (SDK) composed of libraries developed by Ubiquitous for enabling the creation of small and speedy solutions. With a code size of only 50 KB, it can be used with both DNLA clients and servers. It can be packaged into embedded device platforms for a wide range of devices, including smartphones, audiovisual equipment, and in-car entertainment. For further details, visit the Ubiquitous DTCP-IP product information page on the Ubiquitous website.
https://www.ubiquitous-ai.com/en/products/network/dtcp/
About Ubiquitous Corporation (JASDAQ: 3858)
Ubiquitous was established with the aim of realizing the dream of ubiquitous networks for connecting the various devices that we constantly use today so seamlessly that we need not even think about it making connections. Compact, efficient and high-speed software is indispensable to the creation of such ubiquitous networks, and Ubiquitous is committed to contributing to this endeavor through developing the world's most compact, efficient and high-speed network and database software. For further information visit https://www.ubiquitous-ai.com/en/
Contacts
■Ubiquitous Corporation
TEL: +81-3-5908-3451
Website: https://www.ubiquitous-ai.com/en/contact/others/
Staff: Haruhiko Handa, Shinya Toyota