News

Press Release

Jan 13,2017
Ubiquitous Corporation
Ubiquitous QuickBoot™ Supports Renesas' Third Generation R-Car H3 and R-Car M3 Automotive Computing Platform SoCs with Faster Boot Times and Enhanced Functions Supporting 64-bit and SecureBoot
TOKYO, Japan, December 19, 2016 - Ubiquitous Corporation (TSE: 3858, Ubiquitous) announced that Ubiquitous QuickBoot™ (hereafter, "QuickBoot"), a fast boot solution, supports the latest version of Renesas Linux BSP running on Renesas Electronics' third-generation R-Car automotive system-on-chips (SoCs): the R-Car H3 and R-Car M3. It is available in mid-December, 2016.
■ Enhanced Functions of QuickBoot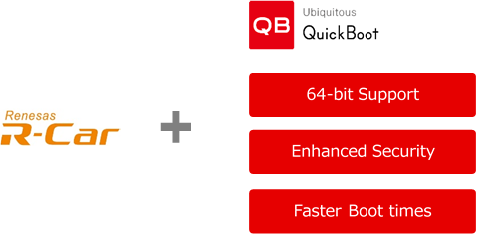 Renesas is a leading supplier in automotive SoCs for in-vehicle infotainment systems, and its third-generation R-Car H3 and R-Car M3 are automotive computing platform solutions for driving safety support systems and in-vehicle infotainment systems. The R-Car H3 and R-Car M3 offer significantly enhanced cognitive computing capabilities to process massive data from various sensors including automotive camera sensors accurately and in real time in not only automotive navigation systems, but also in instrument clusters "automotive cockpit" and advanced driving safety support systems. The SoCs enable drivers to handle complex processing, such as obstacle detection, driver status recognition, hazard prediction, and hazard avoidance.
In-vehicle infotainment systems require not only sophistication of navigation information processing and map rendering but also the integration of AV features such as digital TV as well as the capability of interoperating with a variety of devices and services, including smartphones and cloud-based services. An increase of information volume transmitted from the outside of the systems leads to increased functionality and complexity of applications. Accordingly, it takes more time to process initialization of each function and detection of software alteration. It has been challenging for development manufacturers to reduce the boot time between engine start and operation enabled state for users. Based on the proven technology of QuickBoot to support the first and the second generations of R-Car, the latest version of QuickBoot brings out the superior computing performance of the third generation R-Car while it further reduces the boot times. At the same time, it has improved and enhanced the security functions foreshadowing the emergence of so-called connected cars that connect to the cloud networking.
■ Key Enhancements of QuickBoot
- Support 64-bit
It supports ARM® Cortex®-A57/A53 and delivers fast boot times while maximizing the computing performance of Cortex-A57/A53.
- Support SecureBoot
Operating in cooperation with Renesas SecureBoot, it reduces the boot times in consideration of security aspects while detecting software alteration including primary modules of QuickBoot and snapshot images in addition to the conventional alteration check.
- Considerably Reduce Boot Times
The newly developed function, Super Read Boost, shortened a reading time of snapshot images by 30% to 40 % as compared with a conventional one. It delivers shorter boot times.
- Remarkably Shorten a Time for Saving Snapshot Images
The newly developed function, Super Write Boost, reduced a writing time of snapshot images by 30% to 50% as compared with a conventional one. It remarkably shortens a time for saving snapshot images in the production line as well as at runtime, which improves productivity and usability.
- Optimize a Read-out Size of Snapshot Images
It enables to adjust a read-out size of snapshot images more flexibly as users specify it than before and to reduce the boot time optimum to an application.
- User Thread Using a Multicore Processor on Boot
It defines user thread for each CPU core and supports the operation of multiple tasks in the background, which enables to execute another processing simultaneously during boot.
- Support the Latest Storage Media
It supports the latest high-speed SD/eMMC standard such as UHS-I, HS200, and HS400.
QuickBoot will support Renesas R-Car H3 system development evaluation boards and R-Car starter kits soon.
"In-vehicle infotainment systems are becoming more and more sophisticated and complex toward the autonomous-driving era, and especially, they require security measures including SecureBoot. We are very pleased that Renesas' technology combined with Ubiquitous fast boot solution, QuickBoot, enables reduced boot times and strengthens the third generation R-Car as an automotive computing platform for the coming autonomous-driving era," said Masayasu Yoshida, Senior Director of 1st Solution Business Unit, Renesas Electronics Corporation.
Ubiquitous continues to aggressively work on the development of the fast boot solution focusing on in-vehicle systems.
All company names and product names described in this press release are trademarks or registered trademarks of the respective companies.

■ Renesas R-Car H3 and R-Car M3
The R-Car H3 delivers computing capabilities that exceed those of its predecessor the R-Car H2, enabling it to be used as the automotive computing platform for the autonomous-driving era. The R-Car H3 is compliant with the ISO 26262 (ASIL-B) functionality safety standard for automotive and has enhanced security functions and improved robustness. The R-Car H3 is a new solution that can be applied to a wide range of in-vehicle infotainment systems as well as driving safety support systems.
The R-Car M3 is a SoC that integrates optimum performances and functions for in-vehicle computing systems in medium-class vehicles that are popular globally. It is fully software-compatible with the R-Car H3.
About Ubiquitous Corporation (JASDAQ: 3858)
Ubiquitous Corporation was established with the dream of a ubiquitous network seamlessly connecting all devices the world over. Today Ubiquitous Corporation is not only a leading Embedded Software provider, but also a solution provider for Connected Cars and Homes.
URL: https://www.ubiquitous-ai.com/en/
Contacts
Sales Division, Ubiquitous Corporation
+81-3-5908-3451
Website: https://www.ubiquitous-ai.com/en/contact/others/