News

Press Release

Feb 17,2010
Ubiquitous Corporation
Ubiquitous DeviceSQL selected by Olympus for use in it's Digital Cameras
― Ultrahigh-speed embedded databaseenables advanced picture Searching capabilities ―
Ubiquitous Corporation [JASDAQ NEO: 3858] is pleased to announced that the Ubiquitous DeviceSQL embedded database product ("DeviceSQL," hereafter) has been adopted and equipped in the new μTOUGH-3000 compact digital camera model unveiled by Olympus Imaging Corp. (Head office: Nishi-Shinjuku, Shinjuku, Tokyo; President: Masaharu Okubo; "Olympus," hereafter) in January 2010.
The μTOUGH-3000 has been equipped with a new Photo-Surfing feature enabling users to search their photos by a wide variety of attributes. DeviceSQL, the world's smallest ultrahigh-speed embedded database, enabled Olympus to develop such an advanced feature, while minimizing the development effort required.
Given the large volume of photos now stored on a modern digital camera, customers now demand advanced search and retrieval capabilities. Conventional approaches of indexing photos are no longer efficient enough to handle the number of photos stored by a typical user today. Embedded databases have stepped in to fill this gap, efficiently organizing photos by various metadata, indexed for quick retrieval. Olympus' desire to give their customers the most advanced search capabilities coupled with DeviceSQL's high-performance and small footprint made the selection of DeviceSQL an easy one.
Example of Using Photo-Surfing on the μTOUGH-3000
Pictures can be searched for by date, location*1, information about people in the scene, the scene mode at the time of shooting and collections of favorites, allowing the images on the camera to be viewed however one likes, as if "surfing" through them.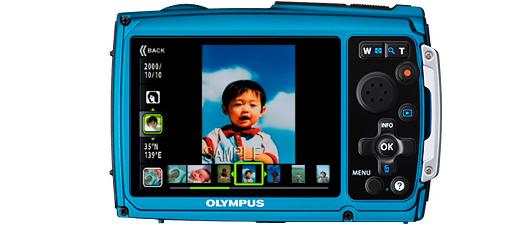 *1 Location information needs to be added through the included "ib" application software.
About Ubiquitous DeviceSQL
Ubiquitous DeviceSQL is an embedded database with the world's smallest database engine (minimum memory footprint of 24KB) designed specifically for performance critical embedded devices. Ubiquitous DeviceSQL enables rapid application development by way of the high-level EPL language which is compiled into ANSI-C code using the DeviceSQL compiler. The DeviceSQL SDK includes the optimized libraries, the DeviceSQL compiler, an interactive EPL shell – SQLProbe and sample applications. DeviceSQL can support virtually all operating systems and CPU architectures. Furthermore, DeviceSQL can be integrated into popular development environments and tools, allowing easy integration with existing device software and applications. Already in use around the world in various devices such as mobile phones, IP set-top-boxes, digital cameras, car audio systems and LCD projectors, DeviceSQL is ready for use in advanced embedded devices.
For more details, please view the product information at:
https://www.ubiquitous-ai.com/en/products/storage/devicesql/
About Ubiquitous Corporation [JASDAQ NEO: 3858]
Ubiquitous was established with the aim of realizing the dream of ubiquitous networks for connecting the various devices that we constantly use today so seamlessly that we needn?t even think about it making connections. Compact, efficient and high-speed software is indispensable to the creation of such ubiquitous networks, and Ubiquitous is committed to contributing to this endeavor through developing the world?s most compact, efficient and high-speed network software.
* The company names and product names mentioned in this press release are the registered trademarks or trademarks of their respective companies.
Contacts
■ Ubiquitous Corporation
SHINJUKU FIRST WEST 16F, 1-23-7 Nishi-Shinjuku, Shinjuku-ku, Tokyo 160-0023, Japan
TEL: FAX: +81-3-5908-3452
Website: https://www.ubiquitous-ai.com/en/contact/others/
Staff: Haruhiko Handa, Michiko Toyota

■ Ubiquitous Corporation PR Desk (within Actio, Inc.)
TEL: +81-3-5771-6426 E-mail: ubiquitous-pr@actioinc.jp
Staff: Akino Nakamura, Norio Ohkaba