News

Press Release

Jul 13,2016
Ubiquitous Corporation
The Ubiquitous Network Framework, an embedded network solution
developed for IoT devices, has been adopted
by HD-PLC (high-definition power line communication) LSI
from MegaChips Corporation

Accelerating the spread of IoT business through IP network technology
over power lines
TOKYO, Japan, Jul 13, 2016 - Ubiquitous Corporation (TSE: 3858, Ubiquitous) announced that its Ubiquitous Network Framework, a network solution designed for embedding in Internet of Things (IoT) devices, has been adopted as a TCP/IP communication software in the BlueChip PLC, a IEEE 1901 compliant broadband PLC LSI product offered by MegaChips Corporation (TSE: 6875, MegaChips).
Product details: BlueChip PLC (IEEE 1901 compliant broadband PLC LSI from MegaChips Corporation
http://www.megachips.co.jp/product/bluechip-plc.html
Until now, Wi-Fi networks have been used to get sensor devices online, but the issues of securing power sources for new infrastructural facilities and the ability for a signal to carry over long distances are new issues faced. As IoT devices become more widespread, systems designed for the collection of data from numerous devices over a wide range will become necessary; this means that the issues above will grow more complex.
The BlueChip PLC is a IEEE 1901 compliant HD-PLC*1 LSI device which can be used to create IP networks and enable an Internet connection over power outlets and coaxial cable. Because it enables TCP/IP networking over a power line alone, it can be used to control light fixtures and HVAC systems, as well as measure data like power consumption via sensors, without the need for laying Ethernet cable and wiring a system. This resolves the issues of securing a power supply and building new infrastructure with minimal outlay. This telecommunications technology is gaining attention as a highly viable means of supporting the future of IoT.
■ Usage example: building energy management system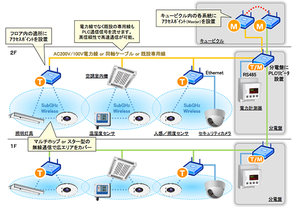 Source: MegaChips Corporation
http://www.megachips.co.jp/product/bluechip-plc.html#a2
The product in which the Ubiquitous Network Framework is installed, the BlueChip PLC Multi-hop KL5BPLC250WMP, supports multi-hop functionality for a maximum of 10 hops and distances over 15km over coaxial cable, and up to 1,024 simultaneous devices on a single network. Unlike traditional single-hop functionality designed for residential applications, this system enables scaling to larger contexts like factories, warehouses, commercial buildings, and other facilities.
The Ubiquitous Network Framework embedded on the KL5BPLC250WMP contains a TCP/IP stack supporting various OSes and IPv6. Optionally, users may add support for advanced protocols like ECHONET Lite, MQTT, et cetera. The merits of being small and lightweight, achieving the requisite IoT functions even amidst minimal resources, were enthusiastically praised by MegaChips Corporation as it adopted the technology.
Ubiquitous will partner with MegaChips to provide PLC development support for users of the LSI.
Going forward, the companies will be lending their full support to corporations using libraries for easy integration with the dalchymia IoT cloud platform offered as part of the Ubiquitous Network Framework and utilizing the KL5BPLC250WMP to collect and aggregate data on dalchymia towards the development of IoT services.
■Remarks from Masahiro Konishi, director of Business Group 4, LSI Division, MegaChips Corporation
We consider it a great pleasure to be able to work with Ubiquitous Corporation. We were very impressed with the way the Ubiquitous Network Framework allows for easily implementing the protocols needed for IoT devices, even when resources are scarce. By combining our BlueChip PLC and Ubiquitous' networking software, we want to promote the use of this technology in growing markets like the smart energy and smart appliance spaces.
■Remarks from Masahiro Sano, CEO of Ubiquitous Corporation
We are delighted that MegaChips Corporation has decided to deploy our Ubiquitous Network Framework in its BlueChip PLC. The BlueChip PLC achieves a much wider range of coverage than existing PLCs and has dramatically lowered the barrier to entry for IoT. This means sectors that had thus far hesitated to deploy such technologies due to cost or time constraints can now readily build a practical service. As a vendor of software platforms, we want to continue doing our part to promote the rapid spread of IoT.
*1: HD-PLC stands for High Definition Power Line Communication. HD-PLC is being championed by Panasonic and is a registered trademark/trademark of the company.
*The company names and products in this press release are the respective trademarks and registered trademarks of their companies.

■ About The Ubiquitous Network Framework
The Ubiquitous Network Framework is a software platform designed for embedding in devices that allows selecting a protocol stack suited to the given context. For OS-less systems, the company's small footprint OS is also available. High performance can be achieved on very minimal hardware resources, making it ideal for developing IoT devices.
https://www.ubiquitous-ai.com/en/products/network/nf/

■ About dalchymia
dalchymia is a new IoT cloud platform that, by freely linking with a range of devices and services, creates new value. Essential IoT functions like data collection, aggregation, visualization, and device management and control are already included in the form of APIs. Users building new IoT services can make use of dalchymia to offset time and costs associated with those functions and focus on developing their service application.
■ About MegaChips Corporation (1st section of the TSE: 6875)
Since its founding in 1990 as a manufacturer of fabless semiconductors, MegaChips Corporation has leveraged its advanced expertise in the fields of images, video, and telecommunications to offer system solutions globally for key ASIC and SoC (System on Chip) devices. The company is also contributing to the future of technology through its provision of solutions for growth markets like mobile and wearable devices that are designed to give clients a competitive edge.
http://www.megachips.co.jp/english/index.html
About Ubiquitous Corporation (JASDAQ: 3858)
Ubiquitous Corporation was established with the dream of a ubiquitous network seamlessly connecting all devices the world over. Today Ubiquitous Corporation is not only a leading Embedded Software provider, but also a solution provider for Connected Cars and Homes.
https://www.ubiquitous-ai.com/en/
Contacts
Sales Division, Ubiquitous Corporation
+81-3-5908-3451
Website: https://www.ubiquitous-ai.com/en/contact/others/