Network Protocol Stacks for IoT devices

Ubiquitous Network Framework Compact, efficient and high-speed network platform

Ubiquitous Network Framework is a software platform composed of various network protocol stacks including simple kernel functions that can be provided for Non-OS embedded emvironments.
It is optimized for development of network devices and communication modules, achieving high performance on very few hardware resources. Also it supports the implementation of communication functions required for every device.
This product consists of TCP/IP protocol stack and related network protocol stacks. In addition, Option Libraries can be chosen according to the communication function and purpose.
To develop IoT devices, ROM / RAM capacity, CPU performance, and cost reduction were major issues, but with this product it is possible to implement network functions at low cost.
This product strongly supports not only consumer electronics but also IoT of very small sensor devices. It also supports the MQTT protocol which is used when communicating with the cloud that needs real-time communication, and it can also link with cloud services.
In addition, it is possible to propose in the optimum configuration according to the hardware resources such as the network equipment and the communication module to be used. There are no constraints such as GPL which need attention when developing with Linux etc, and Ubiquitous Corporation develops and provides all software libraries. (Except in some cases provided by third parties)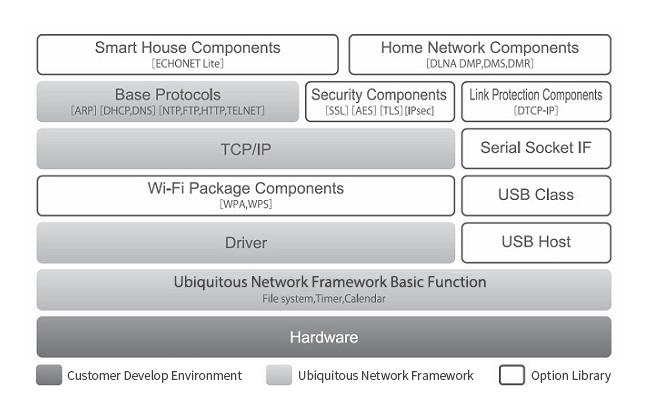 Supports IPv6

IPv6 compliant version (IPv6 Edition) is also available, and it can be used as an upper protocol based on 6LoWPAN.
* The former product "Ubiquitous TCP/IP" is included in this product.

Features
Compact, efficient and high-speed
Both ROM and RAM usage are very small, achieving very high performance. The Network function operates non-preemptively with no priority, and you can execute as much processing as you need.
Total solution of networking of embedded equipment
This product supports every protocols required for developing network compatible equipment as a standard, and supports one-stop support of networking of embedded devices.
Excellent portability
This product has a track record with various CPUs such as, but not limited to ARM architecture of each semiconductor company and Renesas RX series. Please contact us for the supported CPU architectures.
Works on existing RTOS
We also offer "Ubiquitous Network Framework on RTOS" that makes Ubiquitous Network Framework available in RTOS environment. By utilizing existing assets in your RTOS environment, you can quickly and easily start IoT conversion. Please contact us for supported RTOS.
Supported Protocols
Network layer: IP, ICMP, ARP, IGMP/MLD
Transport layer: TCP, UDP
Application layer: DHCPc, DNSc, NTPc, POPc, SMTPc, HTTPd, FTPd, TELNETd
Others: UPnP Device Architecture v 1.0, UPnP Control Point, Bonjour
Dual stack support
IPv4 Edition
IPv6 Edition: Provides support for a dual stack, which allows IPv4 and IPv6 to coexist
Option Libraries
Ubiquitous Network Framework provides multiple Option Libraries according to customer's needs.


Security Components: These are components to provide enhanced security functions such as TLS required for encrypting information in TCP/IP communication, and IPsec for communication encrypted with IP layer. Also TLS, IPSec, PANA and DTLS are supported.
Wireless Components: WPA Supplicant software which is essential to conduct security communication with wireless LAN, WPS which realizes easy access and Wi-Fi Direct which enables devices to directly perform wireless communication without an access point.
Smart House Components: It is a group of components necessary for realizing smart house; ECHONET Lite standardized by the ECHONET consortium as a home control protocol, UPnP, mDNS (bonjour), TFTP Client and USB Host.
IoT Components: These are necessary components to realize the IoT device including MQTT Client function used when the IoT device communicates with the cloud and Parser function to analyze JSON and XML.

Just the same as the Ubiquitous Network Framework, these components are designed to operate very compact and efficiently.