QuickBoot SDK
QuickBoot is delivered as a Software Development Kit (SDK) configured for your target environment. The SDK includes the necessary patches for your Kernel and Bootloader along with Manuals, Examples and Guides making it simple to integrate QuickBoot into your project.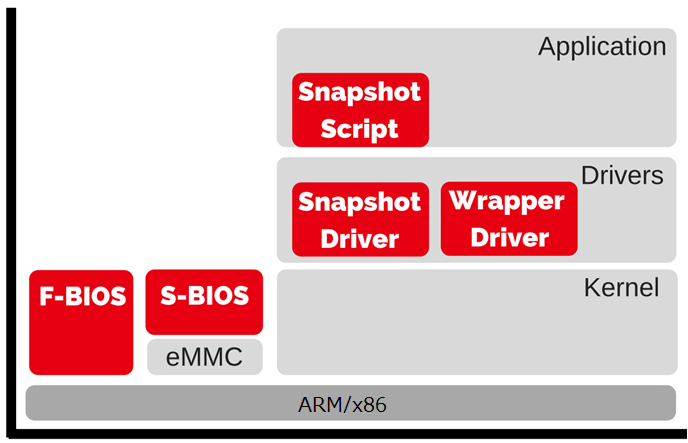 QuickBoot Compatibility
Hardware
Requirements
CPU
ARM
architecture

Cortex-A5/A7/A8/A9/A15/A35/A53/A57/A72
NXP i.MX6x/7x/8x series
RENESAS R-Car 2nd/3rd Generation series, RZ/G1, RZ/G2 series
TI OMAP3/4/5 series
Telechips TCC 892x/893x/897x/803x series
MediaTek MTK812x series
STMicro STA1295A, STM32MP1 series
XILINX Zynq(r)-7000 series, Zynq(r) UltraScale+ MPSoC series
Intel Cyclone(r)V series、Marvell and so on

x86-64 architecture
Intel Atom and so on (Bay Trail Processor, Apollo Lake Processor).
Software
Requirements
OS
Linux
Kernel

3.x, 4.x, 5.x


Please contact us for other environments.
Android
Android

7.x, 8.x, 9.x, 10.x

using Ubiquitous QuickBoot Android Pack Add-On.
The latest Android version will be supported sequentially.